HPC Market Watch
September 02, 2010 at 22:06 PM EDT
Um, Where's Twitter For Android On Twitter's Top 10 Apps?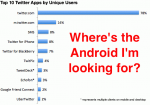 This evening Twitter CEO Evan Williams put up an interesting post about Twitter mobile usage. By just about every measurable metric, it seems to be skyrocketing. He also included a graph of the top 10 ways people are now using Twitter. This includes both Twitter's own apps and third-party clients, but notably, Twitter for Android is nowhere to be seen. I've confirmed with Twitter that this isn't a mistake. It seems that Twitter for Android is in fact not in the top 10 ways people interact with the service. That's incredible considering that Twitter for iPhone is number 4 and Twitter for Blackberry is number 5. Both of those were built by the Twitter team, just as the Android app was.
HPC Job Bank
Featured Events
There are no upcoming events at this time.