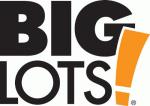 COLUMBUS, Ohio, June 1, 2012 /PRNewswire/ -- Big Lots, Inc. (NYSE: BIG) announced today that it is participating in the Piper Jaffray Consumer Conference being held in New York City, New York.
Timothy A. Johnson, Senior Vice President of Finance and Charles W. Haubiel II, Executive Vice President, Real Estate, Legal, and General Counsel are scheduled to participate in a Fireside Chat on Tuesday, June 5, 2012 which will be broadcast live beginning at approximately 11:55 a.m. Eastern Time. This live audio webcast will be available through www.biglots.com in the Investor Relations section of the website.
If you are unable to join the live webcast, an archive of the presentation will be available through www.biglots.com and will remain available through midnight June 12, 2012.
Big Lots is North America's largest broadline closeout retailer. Currently, we operate 1,459 BIG LOTS stores in the 48 contiguous United States and 82 LIQUIDATION WORLD and LW stores in Canada. Wholesale operations are conducted through BIG LOTS WHOLESALE, CONSOLIDATED INTERNATIONAL, and WISCONSIN TOY and with online sales at www.biglotswholesale.com.
SOURCE Big Lots, Inc.